From real estate, portraits,  weddings, model shoots, graphic design and more! If it involves a photograph, we can help!  We also provide video services.
Virtual Staging
If you are selling vacant homes, virtual staging is a very effective marketing tool. In our opinion, virtually staged homes typically sell for more money, and vacant real estate in Sarasota normally takes longer to sell. Most sellers can't visualize how to furnish an empty home and need a little help.
DK Consulting Group, Inc. is the only company in Sarasota that offers Virtual Staging for your real estate needs. Photos are taken of your empty/vacant property and then virtually staged with furniture on the computer.  Our service stages for a low price of $29-$49 per image in addition to the photoshooting (one angle per room). This is just a fraction of a physical furniture and accessories staging.
Our services do not include removing and replacing furniture in properties. We suggest that our realtor customers disclaim in their MLS listings that their properties are "virtually staged". With this disclaimer in place, buyers who have showing appointments at virtually staged listings will less likely be disappointed when viewing a  listing with no furniture. In addition to our Virtual Staging slideshows, we add vacant room photos, so that potential buyers can see the difference between furnished and unfurnished.
Upgrade your Sarasota photography today and call us to add Virtual Staging to your vacant listings.  Empty homes are not that impressive to show, and you'll increase your opportunity of selling your vacant properties.
MATTERPORT Floorplans
GOOD NEWS!!!
PIX360 is now offering MATTERPORT FLOORPLANS and DOLLHOUSE with 3D WALKTHROUGH
If you are interested in ordering Matterport floor plan, please call our office at: 941-924-9809
We need for your order the square footage of the property under air. Matterport floor plans
are ONLY created inside the property. The property has to be ready & cleaned for photography BEFORE
the photographer comes out to the property. All lights need to be turned on and blinds opened or shutters leveled,
so light gets into the rooms. The photographer needs aprox. 1 hour for every 1,000 sq.ft.
If you have any questions, please call our office at 941-924-9809
Here are some samples of our work:
https://pix360.com/showcase2/12712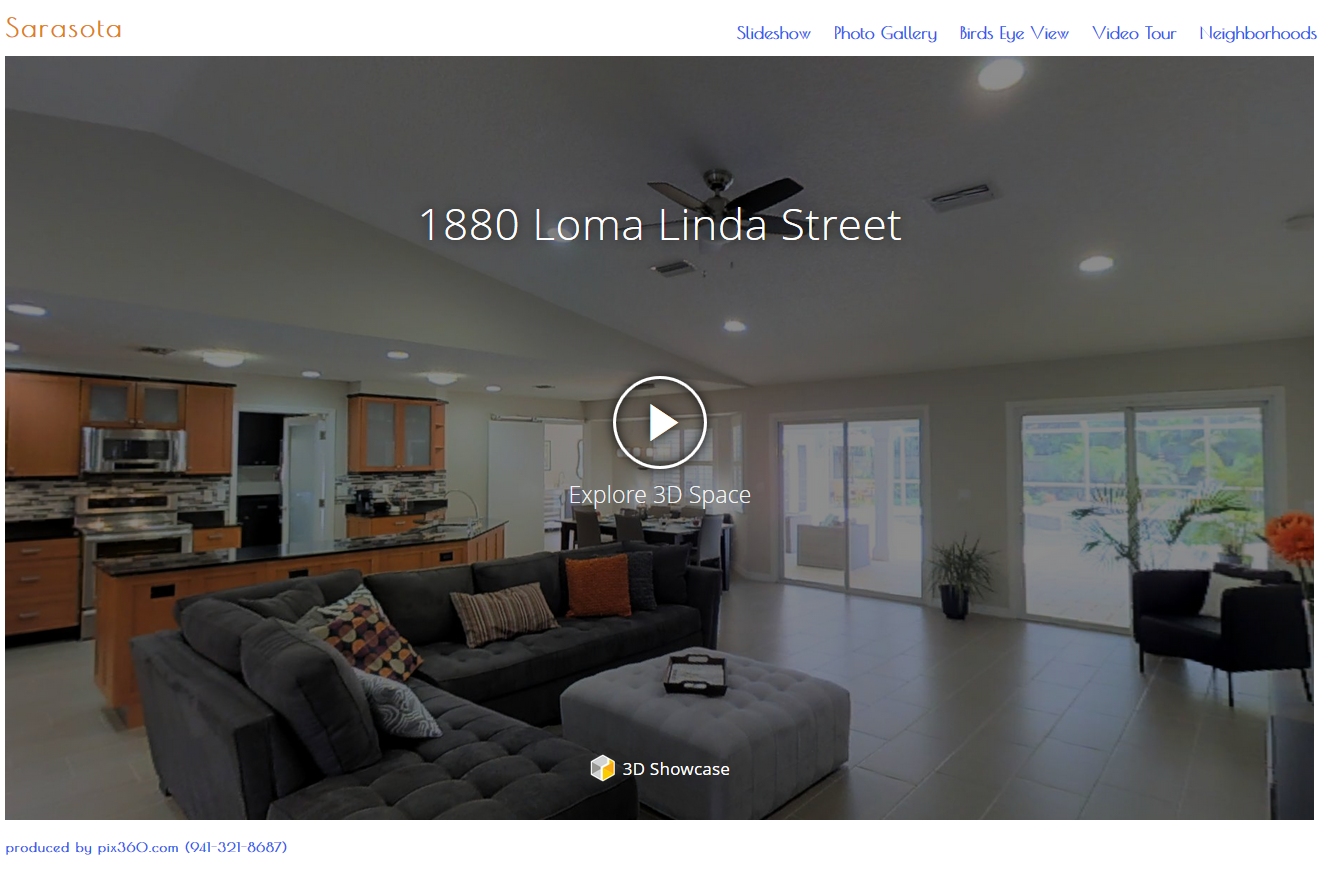 https://vimeo.com/140574964
Graphic Design
Need help with the design of that Marketing piece? Call us today and let us introduce you to some of the best Graphic designers in Sarasota!
Sarasota Stockphotos
If you are in need of stock photos for your website, we offer packages from ALL Sarasota area photos or individual stock photos of Sarasota
http://www.Sarasota-Stockphotos.com